Posted Galina Fadeicheva
Date: December 10, 2016 at 1:43 am
Corn porridge with milk: how to cook a healthy dish for the whole family?

Corn porridge in our country is not very popular. More often corn is associated with flakes or sweet chopsticks, which are very fond of children. However, among all sorts of cereals in its usefulness, it occupies an honorable fourth place, second only to buckwheat, oatmeal and lentils. Corn grains are rich in trace elements and vitamins, it excretes toxins well from the body, and it successfully joins diets in cardiovascular diseases. For breakfast in many Russian families decided to cook milk porridge. Why not start cooking it out of corn? Consider the recipes for making cereals with milk from corn grits.
Corn grits or flour - what's good?
Cornmeal is different grinding:
small (the size of grains like semolina);
medium (grains like wheat or barley groats);
large.
Separately it is necessary to allocate still corn flour, which grains are crushed to a powder state.
Fine grinding of cereals is also referred to as cornmeal meal, from which traditional dishes are prepared in some countries: mamaliga in Romania and polenta in Italy. In our country porridge from corn flour is cooked for small children for up to a year and is used as the first complementary food.
Corn cereal in milk can be made from grits of any grind, but you need to know this nuance: the smaller it is, the sooner the dish will be ready.In recipes it is usually stated that the time of cooking porridge - from 30 to 40 minutes. A dish of cereals is brewed for about an hour.
Pre-soaking of cereals is usually necessary in the case when porridge is cooked for baby food. It is believed that phytic acid is neutralized in this way, which prevents the absorption of nutrients (nutrients) in the intestine.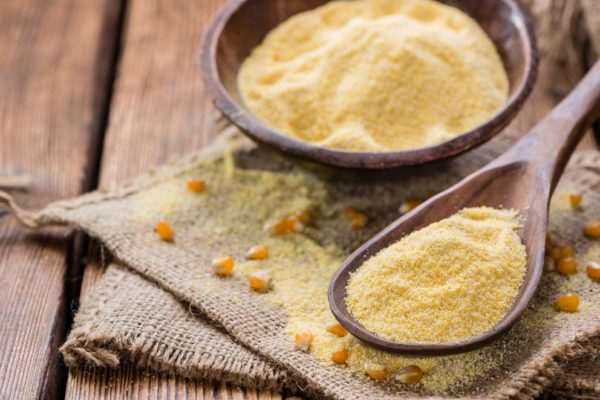 If you want to cook porridge for a child, choose corn flour or grits
How and how much to cook milk porridge?
Cooking milk porridge is better in a pot with a thick bottom or in a cauldron, as the corn very quickly and strongly prikipaet to the bottom.It is also necessary to remember that continuous stirring is a prerequisite.
The ratio of the main ingredients is as follows: cereals, water, milk - 1: 2: 2. With such proportions porridge turns out razvararoy, but not steep. If you want to get a more liquid dish, you can dilute the milk with another glass of water. Then the ratio will be as follows: grits, water, milk - 1: 3: 2.
Corn milk porridge is prepared in three stages:
We boil the rump in boiling water until swelling, until the water evaporates.
Fill the swollen grits with milk (if liquid porridge is required, another glass of water is added), cook under a lid until ready, stir.
We insist on gruel for a few minutes.
Corn porridge with milk will be even tastier if you add lemon zest, dried fruits, vanilla, ground cinnamon, any fresh fruits when serving. It is allowed to flavor the dish with honey - both tasty and healthy. In the latter case, you can reduce the amount of sugar, or even do without it.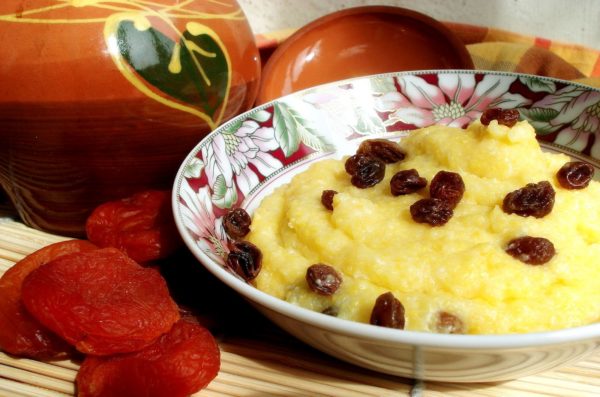 It will not be superfluous to flavor the finished porridge with additional ingredients: for example, raisins or dried apricots
Step-by-step recipes
Classic Edition
Ingredients Required:
medium corn grits - 1 cup;
purified water - 2 cups;
milk - 2 glasses;
sugar - 1 tablespoon;
salt (to taste).
If you decide to cook wholemeal porridge porridge, then only the cooking time will change.
Cooking process:
Boil milk, cool.

At first it is necessary to boil milk

Rinse the corn groats with cold water in a sieve.
In a large pot with thick walls boil water, salt.
Add cereal to boiling liquid.
Cook on low heat, stirring constantly until moisture evaporates.

Do not forget to stir the cereal!

Pour the boiled milk with boiled milk. If necessary, add a glass of water.
Boil another 15–20 minutes, stirring every 2–3 minutes.The pot is supposed to be covered with a lid in the intervals between stirring, so that the croup is boiled soft.